Blog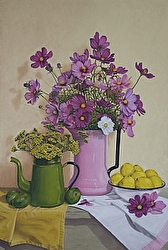 As I venture into the world of art and all the nuances involved, the idea of a blog is a bit intimidating. Writing is far from a main skill of mine but there is something to be said about stretching yourself. In a recent article from Fine Art Views by Stede Barber "Just Say Yes" I am taking the advice of saying "yes" to a lesser skill to make it more natural.
So in this initial offering I want to share with you some great beginnings regarding my art. I am finding the medium of oil pastels is not widely known or understood. I wasn't aware of that when I decided to start producing art in October of 2009. Fortunately I soon discovered the oil pastel forum on the WetCanvas website. Through their monthly challenges and helpful advice my skills got better. But it was their constant encouragement that was the real boost to this aspiring artist.
It wasn't long before I took on larger works with more complexity and soon discovered that I really liked the realism I was able to produce. The challenges of getting the oil pastels to do what I saw in my mind's eye seemed to disappear. This was in my opinion a real blessing from God. I was progressing quickly with work that others admired. Within 4 months I had produced only a few pieces, but one was accepted into a national pastel show. The only oil pastel in the show.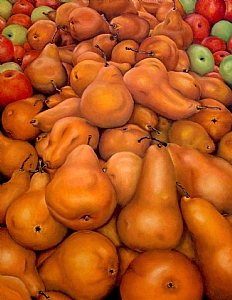 Within 6 months I had a piece accepted into an international show. I was convinced that the Lord was blessing this pursuit. I had no training in art other than high school; to produce at such an initial high level clearly was a hidden talent from God now being revealed.
During this interval I set my sights on attaining member status in a number of groups. First was the Oil Pastel Society, an easy one since I did oil pastels. But my goal is to receive signature status as quickly as I can. In December of 2010 I was granted professional status and I am now working towards the signature level.
This is where the real excitement started. The next group I wanted to get into was the Oil Painters of America, but I wasn't sure if they would allow oil pastels. I was pleased to find out they did! I was granted membership into the OPA the beginning of this month.
The last group I wanted to become a member of was the International Guild of Realism (IGoR). Now I realized that this was a group of some of the most talented artists I have seen. I could not find a single member that mentioned working in oil pastels on all their websites (I love to look at artists' sites, so I visited every member more than once.) to see if I might become the first member who is solely an oil pastelist. Possibly being overly ambitious or just too impatient I applied and waited anxiously for their response. Also during this time I had once again sent in several pieces for consideration in an international show. I was notified that 2 had been accepted for the show portion of the competition. Then to top it all off I received the acceptance e-mail from IGoR!
Well, I think you can imagine how exciting to receive all this great news in such a short time. Everything I do, every talent and every praise I receive is a result of God's blessing upon my life. The pursuit of art is new to me; the pursuit of making a living from it is still a long way off. But regardless of how successful I may be I know in my life that if I do everything to the glory of God I have already succeeded. This perspective is summed up by the scripture I have on my opening page.
"For from Him and through Him and to Him are all things. To Him be the glory forever. Amen" Romans 11: 36
I know that all I create will pale in comparison to what He has created, you and me, the world around us and the universe beyond. Yet, everything created is a gift from God, including my art.
Thanks for looking and may God Bless,
Russ Mackensen
---