Blog
« A New Begining | Main | WIP "masterpieces to THE MASTER" »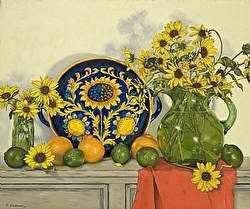 A Blue Plate Special
Time has been a precious item as life moves at a rapid pace for my wife and I. We are in the process of transitioning our home by trying sell two homes and consolidating into one in a completely different state, welcoming our fourth grand child into the world, working on the homes we are selling and trying to spend some time relaxing together there seems to be very little time to paint. With the goal of becoming the best Oil Pastelist I can be and making my work move the medium into a more respected and recognized art form requires that my time be focused and directed. I have finished one piece since the last writing and have titled it "Copper Pomegranates and Oranges" it is 24" x 12" and is an Oil Pastel on Uart Sanded paper.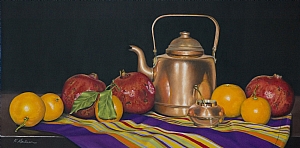 As I have been working on this piece I have also been working on my first commission. It is a still life of the client's collection of American Indian pottery. We have titled it "Frog Woman and Friends" based upon the dominate piece by the potter know as Frog Woman. The complexity of the patterns has been tedious to do in Oil Pastels and is also a challenge to complete in a realistic style. It is nearing completion and I will post it for your viewing shortly.
In my efforts to move Oil Pastels forward I have been actively pursuing juried art shows scene and have had 2 pieces, "A Single White Cosmo" and "A Blue Plate Special" into the Richeson 75 Still life/Abstract 2011 International Competition which ran from April 18 thru June 10th and can be viewed at: http://richeson75.com/stilllife/sloilgal.html These 2 pieces are the only Oil Pastels in the show and were placed in the oils category.


I also have a piece that has been juried into Segil 2011 "Tell Us A Story" summer show. This was juried not only on the piece of art but on the story we had to write about what the art is telling us. I submitted "My Eyes Have Seen" with this brief story: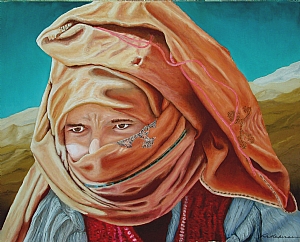 My Eyes Have Seen, what you may wonder? Have I seen death in my family, the destruction of my home or terrorists running my country? I've seen a life alone without my husband and children. I've seen the daily struggle to survive in a land that is not hospitable to a widow. I've seen foreigners looking at me and wondering who I am and how pitiful I appear. All this I have seen, but now I see strength and resolve to overcome all this because I am a proud woman, a strong woman because My Eyes Have Seen.
This show will run from June 18th thru August 20th 2011 at Segil Fine Art in Monrovia California.
As far as the home selling project is concerned, both homes can be seen at: http://mackensenhomes.com/ if you are interested. The first home for sale is located in Pagosa Springs, Colorado high in the San Juan Mountains. The second is in Gold Canyon, Arizona just east of Phoenix at the base of the Superstition Mountains. You never know you may just want a great summer or winter get away.
As my wife and I are working through this process there is a huge amount of stress that we feel at times. I can honestly say that if it were not for our faith in a God that is in total control and who has a plan for us as He promises in Jeremiah 11: 29 we would be at our end.
"
For I know the plans I have for you," declares the LORD, "plans to prosper you and not to harm you, plans to give you hope and a future."
Our faith has led us to understand what the Apostle Paul meant when he wrote in Philippians 4: 11-13
"I am not saying this because I am in need, for I have learned to be content whatever the circumstances. 12I know what it is to be in need, and I know what it is to have plenty. I have learned the secret of being content in any and every situation, whether well fed or hungry, whether living in plenty or in want. 13I can do everything through him who gives me strength."
Although we have times where we are uncertain of our future and our circumstances we needn't worry because our God has us in His hands and will give us His strength to get through it. Busy life, tough times, good times and success are all in His control and I can rest in that. May His peace be with you as it is with my wife and I!
Thanks for visiting.
Russ Mackensen
---
---
Comments